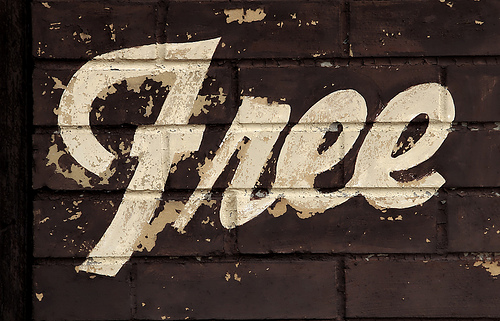 Giveaways without breaking the bank
Giveaways. The very thought of giving something away may make some cringe.  Many large companies run promotions all the time with many freebies.  The small business may be a little less willing to offer promotions because they may feel they may break the budget. Depending on the type of business you are in, you may not have to spend "any" money to make money. I am going to give you a few tips how.
Offer knowledge. You would be surprised how far offering up a bit of knowledge can make in your business. Offering advise where you are an expert does not cost you anything. This helps you become an authority in your field.
Be willing to give back without expecting anything back. When you give something valuable to someone it creates the desire for them to give something in return. You do nice things for people because you are doing the right thing. This can be applied in your business also.
Develop an email marketing list.  This is the easiest way to structure a giveaway. I am more than willing to give my email to someone for something I am interested in than just giving it away to give it away. Consumers have the same line of thinking. If you offer a consumer something that benefits them, you are providing value.
Every Monday I run a giveaway on Pinterest. The response from it is great. I have opened up my business to much more traffic and leads via my weekly giveaways. Sometimes it is informative, others it is a small part of a service I offer. No matter what you choose in your giveaway, make sure it is relevant and offers value.
Give your small business a boost today! It will help boost your potential sales and make you into a trusted and likable source of information. You would be surprised at how great giveaways can bring more traffic to your site.